ATTO ThunderLink NQ 3401

40Gb/s Thunderbolt 3 (2-port) to 40GbE (1-Port) Adapter (includes SFPs)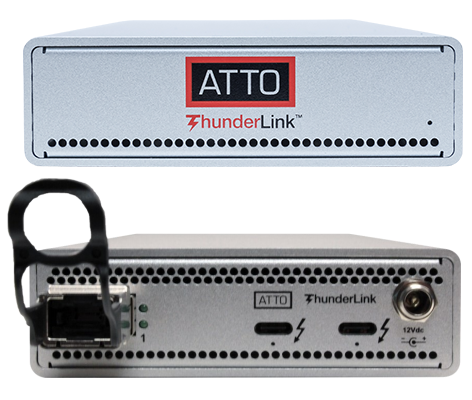 ATTO Technology Products
ATTO ThunderLink Thunderbolt Adapters
ATTO ThunderLink NQ 3401 Dual 40Gb to Single 40Gb Ethernet Thunderbolt 3 Adapter, QSFP+ included
#TLNQ-3401-D00
Our Price: $1,595.00
ATTO ThunderLink NQ 3401 Dual 40Gb to Single 40Gb Ethernet Thunderbolt 3 Adapter, QSFP+ and IEC C-13 power cord included
#TLNQ-3401-DE0
Our Price: $1,595.00
Click here to jump to more pricing!
Overview:
The ATTO ThunderLink NQ 3401 acts as an external Thunderbolt 3 to 40GbE adapter, connecting Thunderbolt enabled all-in-one workbooks and workstations to 40Gb/s Ethernet networks and storage devices. Ethernet ThunderLinks are the premier connectivity choice for bandwidth-intensive applications such as data back-up and restoration, clustered computing, IP content delivery, medical imaging, and video rendering. Thunderbolt 3 technology provides four times the data and twice the video bandwidth of any other cable. ATTO combines cutting- edge Thunderbolt 3 technology with time tested Ethernet expertise to deliver superior throughput to meet the growing bandwidth requirements needed today.
All ATTO Thunderbolt product utilize Advanced Data Streaming (ADS) Technology which maximizes CPU processes to deliver smooth and reliable data transfers and the highest consistent performance as well as our easy to use ConfigTool, an intuitive GUI, which enables management, monitoring and configuration.
Technical Features
Dual Thunderbolt 3 (40Gb/s USB-C) connectors
Single 40GbE (QSFP+) port (module included)
Supports 4K video file transfer and display simultaneously with dual 40Gb/s Thunderbolt 3
Daisy chain up to five additional thunderbolt technology-enabled devices
Backwards compatible with 20Gb/s and 10Gb/s Thunderbolt hosts via Apple legacy adapter
Exclusive Advanced Data Streaming (ADS) technology
Minimized interrupts for low latency
TCP, UDP and IPv4 checksum offloading and Tx/TCP segmentation offloading
Industry's lowest power consumption
Support for downstream USB 3.1 and 2.0 devices
Three year standard product warranty
RoHS Compliant
Industry Proven Technology
ATTO Technology has 30 years of experience developing and delivering reliable storage connectivity solutions for customers. ATTO ThunderLink Ethernet adapters now provide creative professional using Thunderbolt enabled hosts, cost effective access to storage not previously available using FireWire or USB. The integrated family of ThunderLink adapters boasts an extensive list of customer design wins and certifications with respected industry partners.
Flexible Connectivity Solutions
ATTO 40GbE adapters provide the most flexible and scalable connectivity for today's high bandwidth content creation environments. ThunderLink 40GbE adapters offer driver support for Windows and macOS, VMware, providing a single connectivity solution for customers with heterogeneous operating system environments.
Performance Engineered
With 40Gb data transfer rates and multiple offloads (TCP, IPv4, UDP), ATTO Ethernet devices are the premier connectivity choice for bandwidth-intensive applications such as data back-up and restoration, IP content delivery, medical imaging, and video rendering. With mult-core processors driving the need for higher bandwidth, ThunderLink 40GbE delivers superior throughput to meet that need.
Advanced Management Tools
ThunderLink 40GbE adapters provide a common foundation for both local and storage networks. The ThunderLink leverages standard OS management and monitoring tools to dramatically reduce the cost and complexity of a data center's administration and infrastructure.
Applications
ThunderLink 40GbE adapter solutions allow the unparalleled performance of 40GbE to meet the performance and economic needs of today's growing data centers. The ThunderLink is ideal for applications that require low latency, high bandwidth data transfers, such as data back-up and restoration, video-on-demand and video streaming, medical imaging, and clustered databases.
Advanced Data Streaming (ADS)
Latency-management technology that controls the acceleration of data transfers to move large amounts of data faster and more efficiently.
Design:
Purpose-built with your design needs in mind
Meet demands for increased portability, decreased footprint and noise-sensitive environments with a low profile, cool, ultra-quiet device. ThunderLink adapters are simple to stack, easy to install and are designed to integrate seamlessly into existing infrastructures. The ability to hot-plug and full support of daisy-chaining allows you to reconfigure on-the-fly and empowers scalability as workgroups grow.
Spend less time managing equipment and more time creating
Trust your units are powered, ready-to-go and have uninterrupted power with locking power supplies. Now shipping with every Thunderbolt adapter, Kensington Security Slots provide a simple solution for studios, offices and educational facilities, allowing units to be easily secured to a fixed location.
Performance:

It's time to watch your throughput grow
Finally combat compressed schedules and allow for more time creating high-quality deliverables by optimizing performance, up to 2750MB/s for Thunderbolt 3. Smooth and reliable data delivery via ATTO Advanced Data Streaming (ADS) technology allows you to maintain the highest consistent performance while working with HD, 2K, 4K and higher formats.

Interoperability:
Build out a workflow the way you need it
Expand your connectivity choices with the widest portfolio of Thunderbolt adapters across Fibre Channel, Ethernet and SAS and 4X more interoperable components than the closest competitors. Any needed optics (SFP+, QSFP+) are already included and rigorously tested to ensure compatability and data integrity. Mac and Windows Thunderbolt certification enables collaborative workflows and the only Thunderbolt adapter certified with VMware ESXi allows deployments of a one-of-a-kind solution for test and development environments.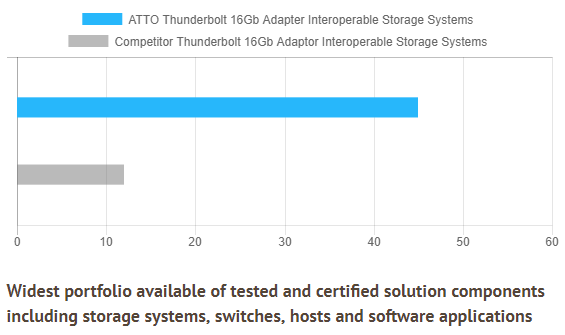 Thunderbolt Solutions have never been easier
Improve overall workflow efficiencies using ATTO MultiPath Director drivers for Fibre Channel by providing uninterrupted and consistent data by enabling load balancing and failover. ATTO ConfigTool provides an easy to use, yet powerful GUI for customizing, managing and optimizing your products. Backed by our extensive history and expertise in connectivity solutions, if any issues do arise, we have an on-site support team ready to diagnose technical issues and resolve them in a timely manner.
Specifications: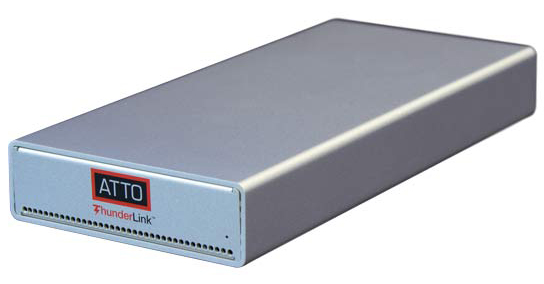 ATTO ThunderLink
TLNQ-3401
TLNQ-3402
Transfer Rate
40Gb/s
40Gb/s
Input Connectors
(2) 40Gb/s Thunderbolt
(2) 40Gb/s Thunderbolt
Output Connectors
(1) 40Gb/s Ethernet
(2) 40Gb/s Ethernet
Connector Type
Thunderbolt 3 / QSFP+
Thunderbolt 3 / QSFP+
Included SFPs/QSFPs
1 QSFP+
2 QSFP+
Form Factor
Desktop
General Features

Data rate per port: 40GbE
Tx/TCP segmentation offload (Large Send Offload-LSO)
Low latency interrupts
PCI-SIG SR-IOV support
Interrupt levels MSI, MSI-X
Plug and play specification support
Advanced Packet Filtering
VLAN support with tag filtering, insertion and stripping

Advanced Software Features

Adaptive load balancing
Teaming support
PCI Hot Plug/Active peripheral interconnect

Management Tools

Easy system monitoring with Simple Network Management Protocol (SNMP) and Remote Network Monitoring (RMON) Statistic Counters
Watchdog timer for chip/driver status monitoring

Network Standards

IEEE802.3ba (40 Gigabit Ethernet)
IEEE802.3az (Energy Efficient Ethernet)
IEEE802.1p (Priority Encoding)
IEEE802.1q (VLAN tagging)
IEEE802.3ad (Link aggregation)
IEEE802.1qbb (Priority flow control)
IEEE802.1qaz (Enhanced Transmission)
IEEE8023.AD (Load-balancing, failover)

Operating System Support
External Connectivity

40Gb/s , 10Gb/s, 1Gb/s QSFP+ MTP/MPO connectors
2 LED indicators per port

Compliance

FCC Part 15, Subpart B, Class B
EN55032, ClassA/EN55024
EN60825-1
EN60825-2
EN60950-1
cTUVus
EU RoHS (2011/95/EC)
TAA Compliant (country of origin:USA)

Dimensions
8.66"(D) x 4.07"(W) x 1.20"(H)
Power Adapter

Input: 100-240VAC, 50-60Hz, 0.6A Max
Output: 12VDC

Hardware Operating Temperature

Temperature: 0°-40° C (34°-104° F)
Humidity: 10%-90% non-condensing

Storage Operating Temperature

Temperature: -40°-70° C (-40°-157° F)
Humidity: 5%-95% non-condensing

Warranty
Three-year standard product warranty
Complementary Products

ATTO Celerity Fibre Channel HBAs
ATTO ExpressSAS HBAs and RAID Adapters
ATTO FastFrame NICs
ATTO FibreBridge Fibre Channel storage controllers
ATTO Thunderbolt adapters
ATTO premium cables

Thunderbolt Cabling

40Gb/s cables are designated with a 3" marking

Active
1M - 40 Gb/s performance
2M - 40 Gb/s performance
Passive
.5m - 40 Gb/s performance
1m - 20 Gb/s performance
2m - 20 Gb/s performance
Video:
The ATTO Difference - Advanced Data Streaming
Latency management technology is built into ATTO host bus adapters (HBAs) and RAID hardware. Advanced Data Streaming manages latency by providing controlled acceleration for smooth data streaming to maintain the highest consistent performance. ADS ensures best-in-industry data transfers for high-bandwidth applications.
ATTO ThunderRack Rackmount Shelf:
Seamless Rackmount Solutions
Looking for a way to mount and organize Thunderbolt ThunderLink Adapters?
ThunderRack shelving enclosure gives the ability to easily rack units, whether in an on-set cart or standard rack in the data center. Now you can seamlessly integrate ThunderLink adapters into existing workspaces and keep units safe and secure all while freeing up desktop space.
Specifications
Fits up to four ATTO ThunderLink Adapters
Slim 1U form-factor
Fits traditional 19" rack environment
Rack 21" depth , extend 32" with included L-Bracket or optional rail kit
Note: Cabinet depth must be 26" or higher to use rail kit
Easily manage power supplies
Simple access to single-sided Thunderbolt and protocol ports
Designed for optimal airflow
Operating temperature recommendation is 0 - 30C for all models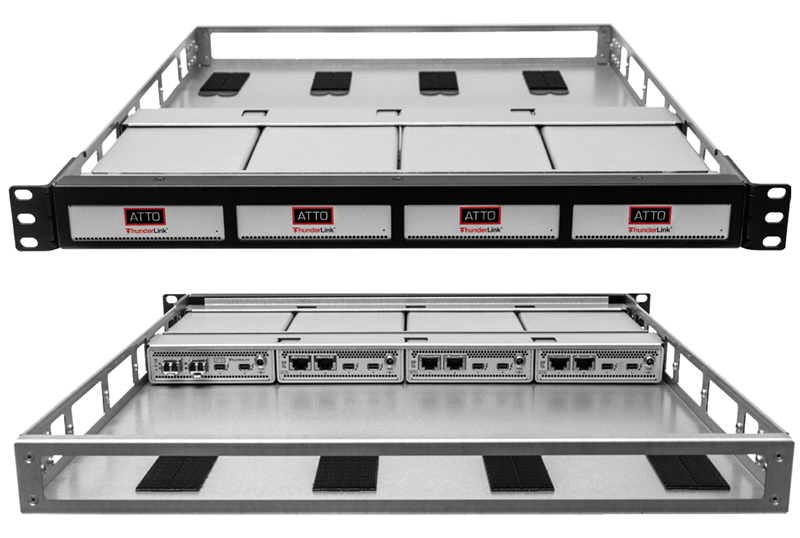 Pricing Notes:
Pricing and product availability subject to change without notice.
ATTO Technology Products
ATTO ThunderLink Thunderbolt Adapters
ATTO ThunderLink NQ 3401 Dual 40Gb to Single 40Gb Ethernet Thunderbolt 3 Adapter, QSFP+ included
#TLNQ-3401-D00
Our Price: $1,595.00
ATTO ThunderLink NQ 3401 Dual 40Gb to Single 40Gb Ethernet Thunderbolt 3 Adapter, QSFP+ and IEC C-13 power cord included
#TLNQ-3401-DE0
Our Price: $1,595.00
ATTO ThunderLink Rackmount
ATTO ThunderRack, ThunderLink Rackmount Shelf
#TBTR-RACK-000
Our Price: $349.00
ATTO ThunderRack, ThunderLink Rail Kit
#TBTR-RAIL-000
Our Price: $65.00
ATTO Accessories
ATTO Locking Power Supply Kit for Thunderbolt Adapters
#PWRS-0008-LCK
Our Price: $80.00