4k / 8k Fibre Channel

Increase 4k / 8k Productivity and ROI with ATTO Fibre Channel Products
New 8K and 4K video formats being adopted by the film/television industry for production come with new requirements to support those workflows. The move to new formats, along with the proliferation of CGI and special effects in everything from TV shows to movies, is driving a need for an infrastructure capable of supporting multiple Ultra High-definition video streams. With 16 times the resolution of 1080p HD, 8K video in particular creates a tough technical challenge for studios.
The Solution: ATTO Celerity Fibre Channel HBAs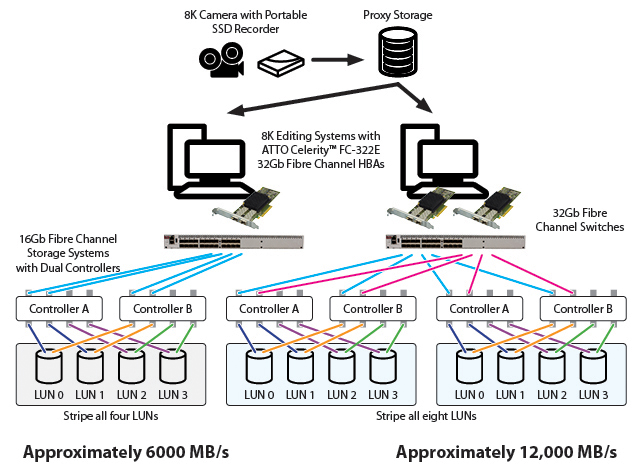 ATTO Technology Celerity Fibre Channel Host Bus Adapters deliver industry leading bandwidth and low latency. Available in single-, dual- and quad-channel configurations, Celerity Fibre Channel HBAs support up to 6,000 MB/s data transfer rates, making them an ideal solution for users seeking the highest throughput for advanced streaming media applications including 8K editing. Designed for fast, redundant and highly available connectivity, they offer driver support for Linux®, macOS®, Windows® and more, providing a single solution for users in heterogeneous OS environments.
Key Features
MultiPath Director

Proprietary ATTO technology provides a completely redundant, high-performance solution for content-creation applications
Enables both failover and load balancing capabilities for multiple Fibre Channel data paths between hosts and storage
Allows Windows, Mac and Linux workstation and server operating systems to directly connect to Enterprise-class storage
Provides a single solution for users in heterogeneous operating system environments

Advanced Data Streaming (ADS)

Proprietary ATTO technology provides controlled latency and data acceleration to enable delivery of multiple concurrent video streams with no dropped frames

Config Tool

GUI-based utility for local or remote management and monitoring of multiple data paths between hosts and storage. Used to easily identify problem areas and expedite troubleshooting efforts
An all-ATTO multipathing solution delivers simplified centralized management, consistent timeout policies across all workstations/servers, ease of maintenance with driver and firmware revisions and ease of installation/troubleshooting. The end result? Improved productivity and increased ROI for your organization.
Compatible Operating Systems: