4k / 8k SAS/SATA

Cost Effective 4k / 8k SAS/SATA Solutions Using ATTO Products
Direct-attached storage can provide a cost-effective, high performance solution for post-production environments. Demanding applications such as Ultra High-definition workflows can stress the capabilities of an adapter used to transfer data in and out of storage, however. To handle the bandwidth demands of uncompressed high-resolution video, the connectivity solution needs to be optimized for smooth, low latency data transfers.
The Solution: ATTO ExpressSAS 12Gb host bus adapters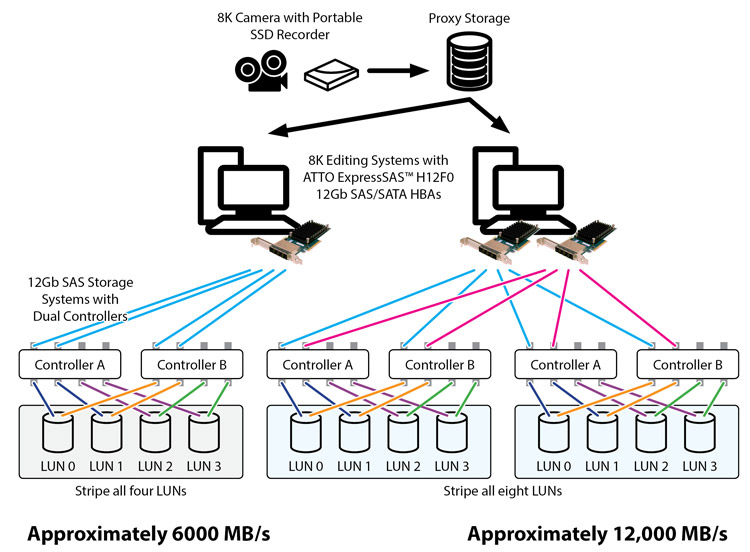 ATTO ExpressSAS 12Gb host bus adapters provide flexibility and reliability for the most demanding applications, including video and film post-production. ATTO's ExpressSAS 12Gb HBAs offer 8 or 16 port configurations, allowing up to 1,200 MB/s per port to enhance the performance of streaming media applications and enable scalability for next-generation platforms and infrastructures, including 8K post-production. They also feature Advanced Data Streaming (ADS), an ATTO-exclusive technology that provides controlled latency and data acceleration to deliver multiple concurrent video streams without dropped frames.
Key Features
Low latency, high-performance Direct Attached Storage technology enables 8K video streaming and editing
Software striping in the 8K editing system can be used to combine all SAS links into one high bandwidth pipe
Advanced Data Streaming Technology (ADS) provides best in industry aggregate bandwidth and predictable data transfers for high performance applications
ATTO ExpressSAS HBAs provide low latency, high bandwidth connectivity for data-intensive applications such as streaming media and Ultra High-definition video post-production. Get ExpressSAS and get ready for 8K.
Compatible Operating Systems: