ATTO XstreamCORE FC 7500

16Gb/s Fibre Channel (2-Port) to SAS Accelerated Storage Controller

ATTO Technology Products
ATTO XstreamCORE Storage Controllers
ATTO XstreamCORE FC 7500 Dual Channel 16Gb Fibre Channel to 16-port 12Gb SAS/SATA 1U Storage Controller
SFP+, Rack Mount H/W and Dual Power Supplies Included
#XCFC-7500-002
Our Price: $12,495.00
Click here to jump to more pricing!
Overview:
ATTO XstreamCORE Storage Controllers are high-performance accelerated protocol conversion appliances which add shared storage benefits to SAS storage but at direct attached speeds. XstreamCORE provides remote access to SAS storage enabling storage owners to disaggregate storage from server hardware using JBOD, JBOF, RAID or Tape Storage. Use cases include mapping one or many individual drives to space limited rack or blade servers, remapping attached drives from failed servers to replacement servers, adding shared capabilities to direct attached storage and remotely locating direct attached disk or tape devices.
Optimized for high performance with multiple hardware acceleration engines, XstreamCORE provides industry-leading performance to up to 64 servers with less than 4 microseconds of added latency. XstreamCORE enables a common set of services and features and is engineered with an open design that does not alter the data path. ATTO Storage Controllers keep overall storage solutions flexible without locking users into proprietary hardware implementations. The ATTO Storage Controller is a modular building block with technology that allows SysAdmins to reduce resource load while decoupling storage from server resources.
The XstreamCORE FC 7500 achieves up to 750,000 4K IOPS or 3.2GB/s throughput with only 4 microseconds of added latency. XstreamCORE supports Extended Copy (LID1) data mover commands and will offload up to 5.2GB/s of data from CPU, memory, networks and storage fabrics leaving more resources for VMs and applications running on the host. Build solutions with up to 240 SSD/HDDs behind a pair of controllers and better manage, monitor and utilize this storage with current and future features built into XstreamCORE. 
ATTO XstreamCORE Storage Controllers can be tuned for various applications that require common features and services for storage. Contact us to discuss development or co-development of services and features to tightly integrate with your solution. Embedded form factor is also available. (OEM only)
Technical Features
Connects two (7500) or four (7550) 16 Gb Fibre Channel ports to four x4 12Gb miniSAS connectors
Adds sharing, remote connectivity, mapping and common services to SAS/ SATA storage
Adds enterprise Fibre Channel features to SAS SSD and HDDs
Adds enterprise Fibre Channel features to SAS Tape and SATA optical devices (7500)
Integrates with up to 960 devices* per controller
Individually map drives to a host or multiple drives to multiple hosts
Adds less than four microseconds of latency
I/O Acceleration with ATTO xCORE technology featuring multiple hardware acceleration engines
eCORE virtualizes a common set of services and features
Patented Drive Map Director simplifies mapping and reduces maintenance costs for storage
ATTO Data Mover technology improves storage performance while reducing compute, memory and network utilization
ATTO control processing provides intelligence and features not found in direct attached technologies to add functionality for improved productivity
Management capable through RS-232, Ethernet or in-band
Available in standard 1U 19" rackmount
Extend The Reach of Storage From Servers
ATTO XstreamCORE storage controllers act as external adapters adding a common set of services and features to flash SSD and HDD based JBOD, JBOF or RAID storage devices. XstreamCORE then remotely shares this storage over long or short distances using Fibre Channel technology. Use cases for these controllers include the remoting of storage from servers or other storage mediums over a Fibre Channel SAN, sharing a pool of high speed flash to multiple connected systems, connecting data centers for business continuity via a stretch cluster and disaggregating storage from servers to independently scale compute and storage.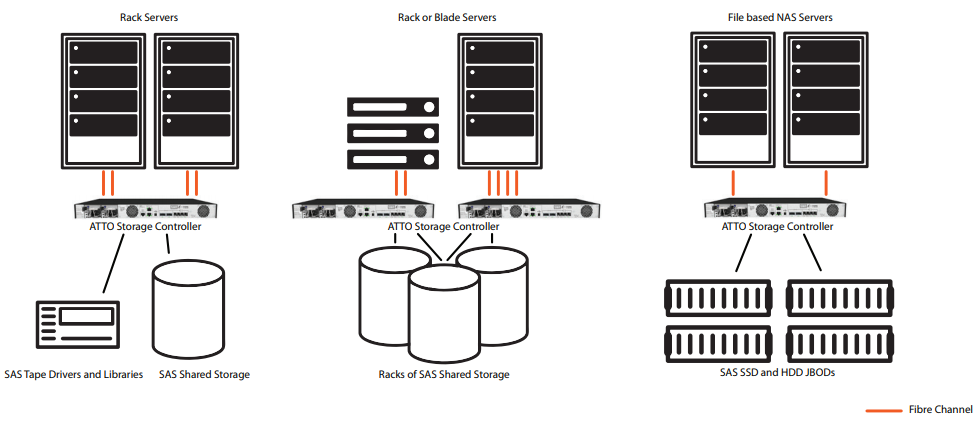 Engineered to Provide Deterministic Latency
Higher storage latency slows real-world performance, server based storage architectures depend on general purpose processors to transfer data, manage storage and add services and features to storage. When services and features are added, the CPU has to process each command in software which increases overall latency. XstreamCORE features a more efficient architecture that separates data traffic from services and features removing any non-data request from the data path to maintain a consistent level of latency and performance.
xCORE Hardware Data Acceleration Engine
ATTO developed the xCORE Acceleration Engine to handle the majority of I/O operations in a hardware processing pipeline without software intervention. xCORE manages all I/O, command routing and decoding, buffer allocation, reservations, access controls and provides real time data analytics. Any exception is off-ramped to the eCORE Control Engine to manage commands which do not require acceleration. ATTO xCORE technology enables the ATTO XstreamCORE to achieve up to 1.2M 4K IOPS or 6GB/s throughput per controller while adding a consistent sub two microseconds of latency.
xCORE Acceleration Technology
xCORE Data Acceleration technology features multiple parallel I/O acceleration engines with end to end I/O processing, hardware buffer allocation management and real-time performance and latency analytics. These features combine to provide very high, reliable throughput and IOPS while adding less than four microseconds of latency.
Performance-critical commands and all reads/ writes are accelerated in hardware
End-to-end data protection in the acceleration technology and control functions to safeguard data throughout the controller and also enables max login management capabilities
Eliminates bottlenecks with parallel processing for up to a 10X performance improvement over standard SAN storage
Maximizes large block transfer sizes for optimal streaming performance (GB/s)
eCORE Control Engine
The eCORE Control Engine adds common, open storage services, integrates with industry standard APIs, handles reservations, storage routing and host and LUN mapping functions. The eCORE Control Engine also manages traffic for data mover offload functions with added error handling and diagnostic tools. These features add value to JBOD, JBOF or RAID storage while providing tight integration with server based software.
Provides common services such as multiinitiator access, data mover, reservations and vendor specific commands that are applied to all attached enclosure and disk devices
Maintains priority for data transfers while providing management of memory and cooperative multi-tasking capabilities
Data Routing Fabric Topology
Incorporates advanced ASIC, firmware and interface technologies that enable users to fine tune ATTO controllers for specific applications
ATTO Embedded Operating System (AEOS) provides an integrated, multitasking environment that self optimizes to changing I/O patterns for maximum performance while maintaining priority for data transfers
Standard read buffer commands allow the collection of inquiry data, event logs, port statistics, phy statistics, SFP and SAS connector information, trace log, core dump, configuration and status information
Write buffer commands are also supported to update controller firmware, clear the event log, clear Fibre Channel and SAS port and phy statistics and to also write a message to the event log
Design:
Designed for Increased Flexibility
ATTO XstreamCORE is a solid state appliance that connects SAS SSD and Hard Drive solutions using standard JBODs, JBOFs or RAID arrays to Ethernet or Fibre Channel networks. Attach up to 960 total drives to multiple servers and assign drives on a drive by drive basis to one or many servers.
Simplified Management
Manage storage through in-band or out-of-band methods for flexibility and integration with most server-side software plus features such as ATTO Drive Map Director™ provide reliable, static storage configurations ensuring that operating costs are kept low and complexity is not a part of the solution.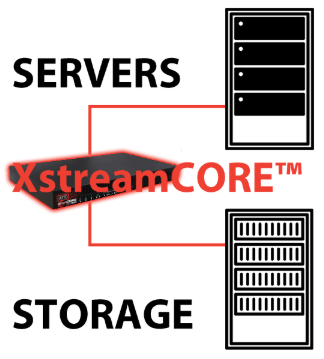 Build a Cost Effective Infrastructure
ATTO XstreamCORE integrates with commodity level storage and allows you to only pay for storage as it's needed. XstreamCORE disaggregates storage from compute resources so you are not forced to add the expense of more servers and more software licensing costs when you only need to increase capacity or add flash storage. With a performance footprint that drives full racks of storage, it doesn't take long before you become a hero for saving significant budget dollars.


A workflow for every infrastructure
ATTO XstreamCORE provides flexibility for your existing storage and networking infrastructure and supports various use cases.
Solve Blade Server Storage Limitation Issues
Add storage to space limited blade servers – XstreamCORE features mapping technology that allows IT administrators to assign individual or multiple drives to a single server or multiple servers. The flexibility provided by XstreamCORE allows the mapping and assignment of up to 960 commodity drives without the cost of expensive all flash array storage or Enterprise storage licensing.

Get longer life out of existing SAS Direct Attached Storage
When you have isolated SAS storage silos, XstreamCORE connects this stranded storage to shared Ethernet or Fibre Channel SANs allowing greater flexibility and usefulness. Even if there is no SAN installed the benefits that XstreamCORE will add are enormous including the ability to increase the speed at which live migration of virtual machines take between physical server hosts.

Disaggregate your storage
As compute and storage have worked together, limitations with expansion have been exposed. XstreamCORE enables adding storage without adding compute, meaning you can add as much storage as you want without purchasing a storage solution or licensing cost for something that is not needed. One key use case is the ability to add SSDs as cache and assign them to individual servers, even remapping a connected drive to a new physical server in the event of a server hardware failure.


Business Continuity vendors choose ATTO
ATTO provides the hardware to convert SAS to Fibre Channel in industry leading stretch cluster solutions from NetApp, Nexenta and Open-E. With proven technology to connect up to 960 SAS drives to a Fibre Channel network, building a solution across campus or across a metropolitan area is easy with XstreamCORE.



Add Ethernet or Fibre Channel connectivity to SAS Tape
Tape has been a reliable medium for archive and project sharing with technologies like LTFS. XstreamCORE can add shared, long-distance connectivity to tape libraries and standalone drives working exclusively with streaming tape or using tape to complement connected SSD and HDD storage.
Performance:
Move Data. Faster.
ATTO XstreamCORE pushes the limits on performance, its design was meant to feed multiple servers a consistent stream of data from SSD flash storage. Leveraging hardware acceleration for normal data transfers, XstreamCORE also has the ability to offload read and write traffic from the server CPU, storage fabric and network resources using standard XCOPY commands.
High Performance. Minimal Latency.
ATTO XstreamCORE architecture was designed to push the envelope on performance. ATTO xCORE technology enables the XstreamCORE to achieve up to 1.2M 4K IOPS or 6.4GB/s throughput per controller when attached to commodity SAS storage or RAID arrays. The amount of latency added is extremely lower than server based solutions that convert SAS to other protocols as servers were not designed to efficiently translate between protocols.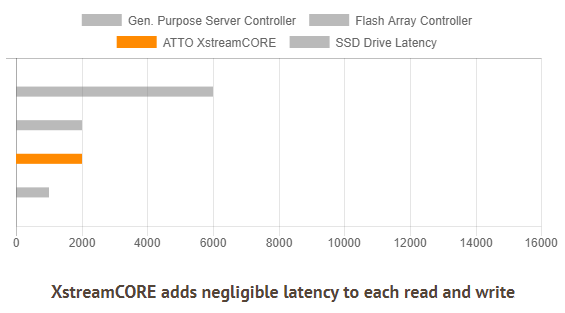 Use Case:
XstreamCORE enables several different use cases to off-load host CPU and memory resources and storage fabric and network bandwidth from data moving responsibilities, XstreamCORE can offload up to 5.2GB/s of data from CPU and network infrastructures. This can integrate with tiering software so the Storage Controller handles the movement of data from tier to tier.
ATTO Storage Controllers enable long distance connectivity for business continuity solutions such as a stretch cluster, campus cluster or metropolitan cluster. Write data synchronously or asynchronously at multiple sites to avoid downtime, disaster or being out of touch with your data.
Operating systems automatically leverage hardware data mover functionality featured in the ATTO Storage Controller. XstreamCORE is certified with VMware vSphere and VAAI to offload data movement between storage. ATTO Storage Controllers is also the only product that enables XCOPY data movement between RAID Arrays from any manufacturer.
XstreamCORE lets storage architects convert direct attached storage to shared storage while maintaining data without data migration. This can turn existing direct attached RAID Arrays into shared storage to improve completion time of live migrations such as VMware vMotion from hours down to minutes.
XstreamCORE lets organizations repurpose existing storage and keep using it on a SAN when they replace existing storage.
XstreamCORE can be used to share SSDs as cache with application that allow SysAdmins to assign cache. Use 16Gb Fibre Channel to share a pool of SSDs across multiple servers without requiring multiple shelves of SSD per server.
XstreamCORE Storage Controllers are also available in embeddable form factors that can be integrated with storage enclosures, servers or appliances to round out a solution set.
Specifications:
ATTO XstreamCORE
FC 7500
FC 7550
Input Connectors
(2) 16Gb Fibre Channel (SFP+)
(4) 16Gb Fibre Channel (SFP+)
Output Connectors
(4) 12Gb mini-SAS HD (x4)
(4) 12Gb mini-SAS HD (x4)
Architecture Latency
< 4 microseconds
< 4 microseconds
Max 4K IOPS
735,000
1,200,000
Max Throughput
3.2Gb/s
6.4Gb/s
Initiators
Up to 64 supported
Up to 64 supported
SAS/SATA Drives
Up to 240 per controller
Up to 960 per controller
Tape Drive Support
Yes
Future
Optical Drive Support
Yes
Future
Form Factor
1U rackmount
1U rackmount
Power Supplies
Two / Hot Swap
Two / Hot Swap
Fibre Channel Connections

Two 16Gb SFP+ Fibre Channel connectors (7500)
Four 16Gb SFP+ Fibre Channel connectors (7550)
Optical SFP+ modules included
Auto negotiates to 16Gb/8Gb/4Gb
Full support for FC-AL, FC-AL2, FC-FLA, FC-FS, FCP-3, FC-PLDA
Fibre Channel retry logic for FLOGI, PLOGI

SAS Connections

Four 12Gb x4 mini-SAS HD connectors
Auto negotiates to 12Gb/6Gb/3Gb
Supports SAS and SATA devices

Management Tools

Web based XstreamVIEW system manager
Local diagnostics supported via Command Line Interface (CLI) via RS-232 and Ethernet
Monitor SCSI Enclosure Services (SES) information provided by attached enclosures
Persistent Event Log gathers at least 40,000 hardware, software and network events
Dual firmware image support for protection from firmware update failures
Performance and temperature monitoring
Data Mover copy manager and performance metrics
Identify LUN by flashing device LEDs
Core dump error analysis
Drive MapDirector and host group mapping
SNMP, SNTP, Telnet, FTP, iCMP

Dimensions

Height 1.735" - Length 9.90" -Width 17.31"
Weight 9.7 pounds (unboxed) 12.9 pounds (boxed)

Controller Operation (Expected)

Temperature S to 40° at 10,000 feet
Humidity 10 to 90% non-condensing

Controller Storage

Temperature -40°to 70°C
Humidity 5 to 95% non-condensing

Power and Airflow

Input 85-264 VAC, 0.5A, 47-63 Hz
11 CFM (Ambient Air not to exceed 40° C)
Front to rear cooling

Agency Approvals and Compliance

Safety:

EN 60950, CSA 60950, CB IEC 60950-1, UL
60950, BSMI

Electromagnetic Compatibility (EMC):

FCC Part 15 Class A, CE, VCCI, AS/NZS, CISPR
22, EN55022: 2006, Class A, EN55024, EN61000
RoHS Compliant 2011 /65/EU
Battery-free design

Warranty
Two-year standard product warranty
Video:
ATTO Technology FibreBridge Fibre Channel Bridges
ATTO offers the widest selection of bridge products in the industry allowing our customers to match a product to their performance needs. Available in rackmount, desktop and embedded form-factors, the ATTO FibreBridge Family is an award-winning line of solutions.
Pricing Notes:
Pricing and product availability subject to change without notice.
ATTO Technology Products
ATTO XstreamCORE Storage Controllers
ATTO XstreamCORE FC 7500 Dual Channel 16Gb Fibre Channel to 16-port 12Gb SAS/SATA 1U Storage Controller
SFP+, Rack Mount H/W and Dual Power Supplies Included
#XCFC-7500-002
Our Price: $12,495.00
ATTO Accessories
ATTO Power Supply for 7500 Rackmount Appliances, Hot-Swappable
#PWRS-0010-R00
Our Price: $795.00
ATTO Warranty
5-Year Warranty Extension for FibreBridge 6500 and XstreamCORE 7500/7550
#SER1-WAR5-000
Our Price: $1,495.00
5-Year Warranty Extension with Advanced Replacement for FibreBridge 6500 and XstreamCORE 7500/7550
#SER1-APR5-000
Our Price: $1,995.00