4k / 8k Thunderbolt

4k / 8k Productivity On The Go with ATTO Thunderbolt Adapters
With portable 6K and 8K digital cinema cameras now becoming available from companies like RED, field production can generate staggering amounts of data—all of which needs to be catalogued and archived on-site before being transferred to the studio for editing and finishing. But the mobile computers used for this purpose have traditionally provided limited performance, along with connectivity options that fail to meet the bandwidth needs of the Ultra High Definition formats now in use by media professionals. Additionally, there is a need to connect mobile computers to high-performance networks and storage to facilitate extended, collaborative workflows.
The Solution: ATTO Thunderbolt Technology-enabled Thunderlink Adapters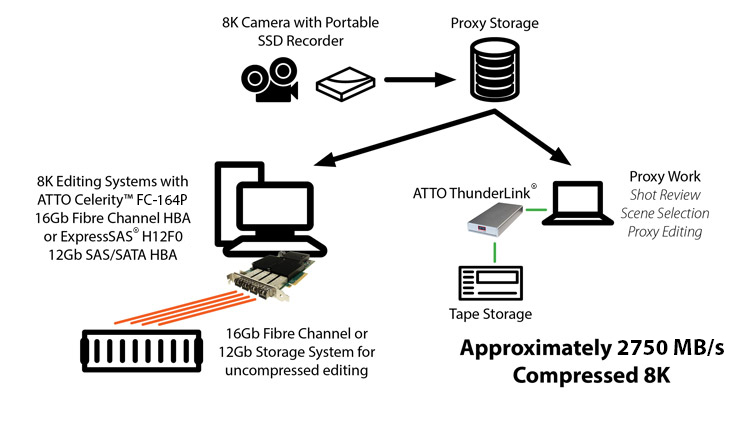 ATTO's Thunderbolt Technology-enabled ThunderLink Adapters bring high throughput (40 Gb/s) and versatility to creative professionals who need access to external storage and networks for I/O demanding applications, including 8K/4K Ultra High-definition video workflows. They also provide access to LTO tape storage devices for data migration between field and studio. With ThunderLink adapters, a single Thunderbolt cable can provide connectivity to 40Gb Ethernet, 32Gb Fibre Channel, 12Gb SAS, USB and DisplayPort, as well as extend connections to other Thunderbolt Technology-enabled devices.
Key Features
ThunderLink Thunderbolt Technology-enabled Adapters connect desktops, all-in-ones and mobile workstations to high performance storage and networks including 32Gb Fibre Channel, 40Gb Ethernet, and 12Gb SAS/SATA
Up to 40Gb/s performance for reliable data streaming
View, edit, store and offload footage
Ingest, transcode, and backup hours of daily content to multiple tapes simultaneously
Advanced Data Streaming Technology (ADS) provides for controlled latency and acceleration of data designed to deliver multiple streams of video concurrently without dropping frames.
Compatible Operating Systems: