ATTO FastFrame NS12

Dual Port 10GbE PCIe 2.0 Network Adapter (includes SFP)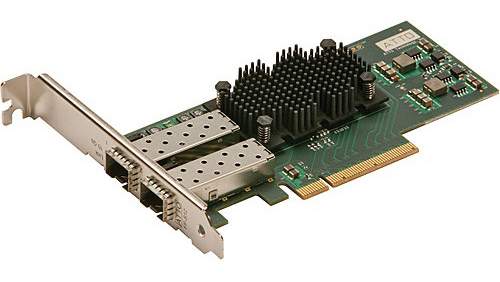 ATTO Technology Products
ATTO FastFrame Ethernet NICs
ATTO FastFrame NS12 Dual Channel 10GbE to x8 PCIe 2.0 Ethernet Adapter, Low Profile, LC SFP+ included
#FFRM-NS12-000
Our Price: $895.00
Click here to jump to more pricing!
Overview:
FastFrame NS12 dual-port SFP+ Ethernet Adapter conserves PCI slots for more flexible system design, while drawing up to 60% less power than competing solutions. A lower power rating means lower energy costs, lower data center maintenance fees, and fewer worries about heat dissipation. This high performance adapter includes high-quality pluggable optical SFP+ tranceivers - a hidden cost with some competitor cards - and support for direct attach copper cables.
FastFrame NS12 dual-port SFP+ Ethernet Adapters provide opportunities for link aggregation for additional available bandwidth, or for link failover.

In addition to broad support for Windows and Linux server and desktop operating systems, ATTO is a leader in high performance I/O connectivity for macOS environments. ATTO also offers Xtend SAN, an iSCSI initiator for macOS, for a complete solution. Acquire your NICs for multiple-OS environments from a single source — one familiar with the data-intensive demands of content editing.
ATTO FastFrame 10Gb Ethernet NICs Adapters
ATTO FastFrame 10Gb Ethernet network interface cards (NICs) provide maximum throughput and high-bandwidth network connectivity for demanding IT and media & entertainment applications.
Technical Features
Quad, dual, and single port configurations
Up to 10Gb/s throughput per port
High-performance x8 PCIe 2.0 bus
Low profile (single and dual channel) or full height form factor
Supports Data Center Bridging and software iSCI initiators
Driver support for Windows, Linux and macOS operating systems
TCP, UDP, IPv4 checksum offloading, IPsec offloading and Tx/TCP segmentation offloading
Load-balancing on multiple CPUs
Minimized interrupts for low latency
Industry's lowest power consumption
Three year standard product warranty
Industry Proven Technology
FastFrame 10GbE NICs are built on an industry standard Ethernet technology from Intel. The FastFrame NS14, NS12 and NS11 simplify networking administration, integrate seamlessly into existing environments and reduce the total cost of ownership by improving connection bandwidth and eliminating redundant network infrastructure components.
Flexible Connectivity Solutions
FastFrame NICs provide the most flexible and scalable connectivity for today's data center environments. By leveraging data center bridging and support for software iSCI initiators, FastFrame network adapters offer the ability to support, both local and storage area networks. With broad operating system support NS14, NS12, and NS11 NICs offer optimized connectivity for high-bandwidth environments.
Performance Engineered
FastFrame cards, with support for link aggregation and failover, offer redundancy and high availability for critical network applications. FastFrame NICs provide industry-leading throughput and latency management with minimal CPU utilization and power consumption. With 10Gb data transfer rates and multiple offloads (IPsec, TCP, IPv4, UDP), FastFrame adapters are the premier connectivity choice for bandwidth-intensive applications such as data backup and restoration, clustered computing, IP content delivery, medical imaging and video rendering. With multi-core processors driving the need for higher bandwidth, FastFrame 10GbE network adapters deliver superior throughput to meet that need.
Advanced Network Management
FastFrame 10GbE NICs provide a common foundation for both Ethernet and storage networks. FastFrame Ethernet adapters leverage unified network investments and eliminate the need for multiple adapters and switches, while reducing power and cooling expenses. By providing multiprotocol support and leveraging 10Gb converged enhanced Ethernet links, FastFrame NICs dramatically reduce the cost and complexity of a data center's cabling infrastructure.
Applications
FastFrame 10GbE NICs combine the unparalleled performance of 10 Gb Ethernet, the lossless benefits of enhanced Ethernet, and robustness of software iSCSI initiators to meet the performance and economic needs of today's growing data centers. The FastFrame NS14, NS12 and NS11 are ideal for applications that require low latency, high-bandwidth data transfers such as data back-up and restoration, video-on-demand and video streaming, medical imaging, and clustered databases.
Design:
Powerful solution. Powerful design.
Based on industry-standard Ethernet technology, ATTO FastFrame NICs are available in single, dual, and quad-port configurations. FastFrame has been proven to deliver high performance I/O connectivity and lossless Ethernet support for improved iSCSI block storage access as well as optimal network traffic.
Connectivity across campus
ATTO FastFrame NICs make it possible to setup virtual networks across campus or the data center. Using optical fiber and a transceiver (SFP+), Ethernet packets can now travel up to 400m without sacrificing speed or data quality.
Flexible connectivity
ATTO FastFrame NICs provide the most flexible and scalable connectivity for today's data center environments. By leveraging data center bridging and support for software iSCSI initiators, FastFrame network adapters offer the ability to support both local and storage area networks.
Meet the demands of 6K Today.
Migrate to higher performance levels with FastFrame 40GbE and 10GbE NICs. FastFrame is used for demanding applications using streaming media like post production and video/sound editing, and other rich media and data intensive applications.
Performance:
Data transfers just got faster.
ATTO 40GbE NICs feature industry-leading latency management with RoCE. It has the benefit of eliminating the intermediate step of utilizing the CPU to transfer data and enabling near line-rate performance.
The smoothest and most reliable data transfers
Sometimes it is not just how fast you move the data, but how well you can manage the flow of that data to reduce network collisions. With distinctive latency-management features such as ATTO Advanced Data Streaming (ADS), FastFrame adapters deliver better overall performance across all of your applications while reducing your CPU utilization significantly.

Do more. Save more.
ATTO FastFrame NICs are the lowest energy consuming cards on the market and provide a higher ROI by transferring more data per dollar spent on power than the competition. One 40GbE NIC can do the same amount of work as four 10GbE cards with less power consumption and overhead.

Interoperability:
High compatibility and broad interoperability
ATTO FastFrame NICs work wherever you need them: in workstations, servers, and data center racked servers. They are supported by a full suite of software drivers for macOS, Windows and multiple Linux distributions.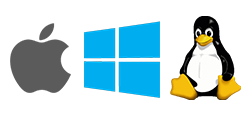 Specifications:
ATTO FastFrame
FFRM-NS11
FFRM-NS12
FFRM-NS14
Ports
Single
Dual
Quad
Bus Characteristics
x8 PCIe 2.0
x8 PCIe 2.0
x8 PCIe 2.0
Connector
LC Fiber Optic
LC Fiber Optic
LC Fiber Optic
Form Factor
Low Profile
Low Profile
Full Height
Max Transfer Rate
1250MB/s
2500MB/s
5000MB/s
Key Features

Intel Ethernet Controller #82599
Data rate per port: 10GbE
TCP, UDP, and IPv4 checksum offloading
Tx/TCP segmentation offload (Large Send Offload - LSO)
IPsec offload
Low latency interrupts
MSI-X support Multiple Independent Queues (10 queues per port)*
Interrupt moderation*
Data Center Bridging (DCB) support
Priority-Based Flow Control 802.1Qbb rev.0*
Enhanced Transmission Selection 802.1Qaz rev.0
Data Center Bridging (DCBX) 802.1Qaz rev.0 protocol
Header splits and Replication in Receive
Receive Side Scaling for multiple Rx queues*
Direct Cache Access (DCA) eliminates cache misses and reduces CPU load
Interrupt levels INTA, MSI, MSI-X*
Plug and play specification support
Time Sync for networked Ethernet equipment 1588, 802.las*
VMDq and next-generation VMDq QoS features
IEEE 802.3 2005 flow control support*
Advanced Packet Filtering
VLAN support with tag insertion and stripping
PC-SIG SR-IOV implementation (64 virtual functions per port)*

Bus Specifications

x8 PCI Express 2.0
Supports PCI Express Base 2.0 and CEM Spec 2.0

Management Tools

Easy system monitoring with Simple Network Management Protocol (SNMP) and Remote Network Monitoring (RMON) Statistic Counters
Watchdog Timer for chip/driver status monitoring

Advanced Software Features

Adaptive load balancing
Teaming support
IEEE 802.3ad (link aggregation control protocol)
PCIe Hot Plug/Active peripheral interconnect
IEEE 802.1Q VLANs*

User Benefits

Multiple offloads for lower processor usage and increased throughput
Reduced power, cooling and cabling costs
Low total cost of ownship (TCO) with high bandwidth over a single link

Management Tools

Easy system monitoring with Simple Network Management Protocol (SNMP) and Remote Network Monitoring (RMON) Statisitic Counters

External Connectivity

Dual speed 10G/1G Four, two or one LC fiber-optic connectors
Support 10G SFP+ Cu for Direct Attach
2 LED indicators per port
LED Indicators: LINK (solid), ACTIVITY (blinking), LINK SPEED (green = 10Gb, yellow = 1Gb)

Network Standards

IEEE 802.3ae: 10GBASE-SR, 10GBASE-LR SFF-8431: 10GSFP+Cu (aka direct attach)
IEEE 802.1qbb (Priority flow control)
IEEE 802.1qaz (Enhanced Transmission)
DCBX Protocol

Operating System Support

Windows
Windows Server
macOS
SUSE Linux Enterprise Server (SLES)
Red Hat Enterprise Linux (RHEL)

Operating Temperature
0°-55° C (32°F to 131°F)
Non-Operating Temperature
-40°-70° C (-40°-157° F)
Airflow required
100 lf/m
Humidity
5% to 95% non-condensing
Power Consumption
4.7W
5.9W
15.7W
Agency Approvals

FCC Part 15.107(b), Class B
FCC Part 15.109(g), Class B
EN55022: 2006, Class B
EN55022: 2006 + A1: 2007, CISPR22, Class B
EN55024: 1998 + A1: 2001 & A2: 2003

Compliance

EN60950-1: 2001, IEC 60950-1: 2001
EN60825-1: 2007, IEC 60825-1: 2007
EN60825-2: 2004, IEC 60825-2: 2004
RoHS

Warranty
Three-year standard product warranty
Video:
The ATTO Difference - Advanced Data Streaming
Latency management technology is built into ATTO host bus adapters (HBAs) and RAID hardware. Advanced Data Streaming manages latency by providing controlled acceleration for smooth data streaming to maintain the highest consistent performance. ADS ensures best-in-industry data transfers for high-bandwidth applications.
Pricing Notes:
Pricing and product availability subject to change without notice.
ATTO Technology Products
ATTO FastFrame Ethernet NICs
ATTO FastFrame NS12 Dual Channel 10GbE to x8 PCIe 2.0 Ethernet Adapter, Low Profile, LC SFP+ included
#FFRM-NS12-000
Our Price: $895.00